Local Community
Articles & Press Releases - Sunday, Feb 25th 2018
Community level campaigns and initiatives and local community issues.
PCYC livALIVE Wins Belmont Youth Services Tender 22nd June 2012 PCYC awarded PCYC livALIVE tender
Belmont Youth Making a Difference 17th February 2012 PCYC includes 9 young people in new livALIVE committee
New Initiative Launched to Tackle Marginalisation of WA Kids 17th February 2012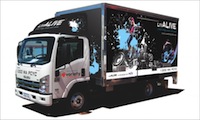 First of its kind a new mobile outreach service offers 24/7 support for kids
Free classified ads service for amputees 16th December 2010 Errine Pty Ltd t/a Errine Adaptive Clothing has taken the initiative to provide a completely new and free service for amputees across Australia
Thomas The Tank Engine Completes World Record Attempt For Australia 4th November 2010 The Thomas-themed toy train track, built using Thomas the Tank EngineTM Fisher-Price TrackMasterTM pieces, measures 2.014 kilometres, making it 364 metres longer than the previously-held record, which was built at Mediage/Aqua City, Odaiba, Japan on the 23rd August 2006.
Seniors Have-a-go-day 2010 A Be Active Event 18th October 2010 It's that time of year again when the Seniors Recreation Council of WA presents its annual Have-a-Go Day 2010. It is on Wednesday 3 November at Burswood Park, Great Eastern Highway, between 8.30am and 3pm.
Submit Local Community Articles or Submit Local Community Press Releases.