Charity
Press Releases & Articles 261 - 265 of 293
Easter Charity Walk - 165km Walk For Newpin





29th March 2010 - Views: 1031

The goal is to raise $15,000 for NEWPIN (New Parent Infant Network) a community-based program with a preventative, early intervention focus, targeted to assist families experiencing significant difficulty or distress.
Press Release - The Loyal Foundation





17th March 2010 - Views: 1407

On Boxing Day last year, the crew of the Super Maxi Investec LOYAL set off from Sydney in one of the worlds most gruelling and competitive ocean race's with the aim of achieving two things, to finish the race and to raise money for charity.
Cancer Council, Cosa Applaud Principles Of Rudd Health Reform Agenda





3rd March 2010 - Views: 939 The Rudd Government should be commended for addressing the inefficiencies of Australia's fragmented health system, Cancer Council Australia and the Clinical Oncological Society of Australia said today.
Camp Quality Teenagers Fight Cancer With Colour!





3rd March 2010 - Views: 1368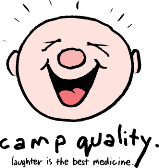 Camp Quality teenagers had the time of their life when they were given the opportunity to participate in the new Starburst TV commercial. Starburst is currently running a campaign to raise awareness for Camp Quality, donating $100 000k, and the colour from their packs.
Local Charities Enjoy Grants From Bennelong And Dubai Duty Free Foundations





2nd March 2010 - Views: 1003 The Bennelong Foundation, the Bennelong Group's philanthropic arm, has joined with the Dubai Duty Free Foundation to make joint grants to Australian charities.